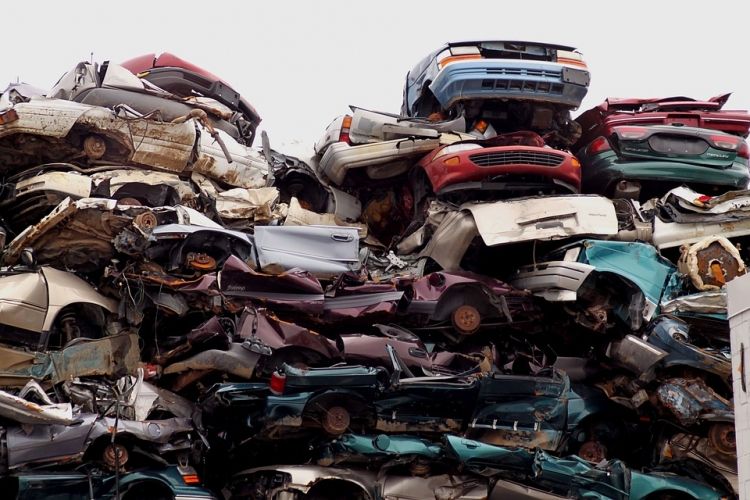 How to Make Money from Recycling Cars and Parts?
Are you tired of putting money into an old clunker? Have you thought about dragging your Chevy to the levee and leaving it there? Before you throw good money after bad, or throw a potential gold mine away, read this article and learn about recycling car parts for money.
In this article, we discuss how to recycle different parts of your old jalopy, what parts are most valuable, and the best way to recycle parts or the whole car for the most money. Whether your ride is a newer model wreck or 15 years or older, there's still value in the parts. We'll explain how to make money scrapping cars, so you don't have to wait for your clunker to rust away.
Table of Contents
How to Recycle a Whole Car?

How to Recycle Car Parts?

What are the Most Valuable Car Parts?

Under the Hood

Under the Body

The Body

Passenger Compartment and Trunk

Everything Else
Best Way to Recycle Your Car or Parts

Conclusion
How to Recycle a Whole Car?
There are over 280 million automobiles registered and operating on over 4 million miles of roadways in the US, plus untold millions of vehicles rusting away in yards, fields, and sheds. On average, 12 million cars are recycled annually, that's enough metal to make 13 million new vehicles. Recycled cars and trucks also add almost $25 billion to the US economy, so consider recycling cars for cash and putting money in your pocket.
America has about 7000 wreckers or junkyards recycling automobiles. Some yards will charge you a fee to haul away your old heap; others will pay you a flat rate no matter the year, make, or model. However, there are a few auto recyclers who will offer you top dollar for your whole clunker. They'll take it and sell the parts of value, and recycle the rest for money. They do all the work; you pocket the cash. Having someone else do all the work may be easier than doing it yourself.
If you decide to sell the parts yourself, you'll need some tools, jack stands, or a hoist, and then you can dismantle that old car. You'll want to take some pictures and maybe develop a website, or use an existing one. Alternators, batteries, and bumpers aren't lightweight, so shipping costs need to be calculated.
The same goes for windows, doors, and tires. Some buyers may even want quarter panels or seats, so be prepared to pack them up. Once everything is dismantled, you'll need someplace to store it while you find a buyer. Anything that doesn't sell may cost you some money to dispose of, or you may be able to get a few bucks for it as scrap.
How to Recycle Car Parts?
Whether you decide to sell the whole car, sell it for parts yourself, or donate it to a charity, there are a few things you need to do.
Remove all personal belongings and any trash that may have collected in it.

Find or replace the ownership or registration so you have proof you can legally

recycle car parts for cash

.

If there's money owing on the

automobile

, you'll need to pay it out for a clear title.

You may need to check if there are any local ordinances or HOA requirements before turning your drive or yard into a

scrapyard

.
Before dismantling your auto, take a quick inventory of what parts you may be able to sell, their condition, and how much you may be able to get. It's better to lowball the value and be realistic.
Consider the cost of purchasing tools if you don't have them and how much effort you're willing to expend to remove and sell the parts. Most of us don't count our labor, but if you need help, even beer costs money. Don't remove parts from a car you've arranged to sell to a salvage yard.
Some parts have more value than others, and recently replaced parts usually are better than those they replaced. The following parts often bring a good return: exhaust systems, including the catalytic converter, tires and rims, bumpers, built-in GPS, audio components, electronics, windows, fenders, alternator, starter, wiper arms and motors, doors, hood, panels, tailgate or trunk. We'll provide more information about these and other parts in the section below.
Parts you choose to sell can be posted on social media, different websites, even magazines, newspapers, and community boards. Take pictures before and after removing the parts. Don't clean the part up too much.
Many buyers prefer to see what the part looks like without being cleaned. You can also take a list to your local mechanics and body shops to see if they need any of your parts. Dead batteries, oil, and other fluids are often classed as hazardous waste and need to be disposed of appropriately. Anything that you are unable to sell is junk, and you'll still need to dispose of at a recycler or junkyard.
What are the Most Valuable Car Parts?
Recycle your car for cash can be a rewarding experience. Whether a newer model or 20 years old or more, front-wheel or rear-wheel drive or even a pickup, you'll learn a lot about a vehicle when you take it apart. With the average automobile having more than 30,000 parts, it's quite an undertaking.
Here's a list of 40+ parts that can put cash in your pockets. Sell parts privately, on websites, local repair shops, magazines, and junkyards. The value is in the condition, year, make, model, and even color. The scarcer or higher-end vehicle the part is from, the greater the return.
Under the Hood
Starter

– contain copper and other recyclable metals, expect $2 to $10 for scrap or sell for $40 to $150 depending on model and condition.

Alternators

– usually last between 100k and 150k miles, expect between 30% and 50% of the cost of a new alternator, based on condition and mileage.

Water pump

– recycled a pump may bring $5, sold it can add $30 to $200 plus to the kitty based on year, make, and model.

Water pump pulley

– expect 50₵ recycled, but potentially $20 to $70 to the right

buyer

.

Radiator

– there's copper and other metals in a rad, making it a recyclable or saleable item. In good condition, expect a return between $60 and $200 or more. The supports or brackets, cover, and cap can sell separately for $10 to $40.

Engine

– recycled could net $200 for the metal, cleaned up, and in good condition, it could sell for $500 or more.

Oil and oil filters

– recycling a gallon of old oil will prevent contaminating millions of gallons of drinking water, and add 50₵ per gallon to your pocket.

Plastic reservoirs

– recycled plastic or get between $60 and $150

Batteries

– almost 99% of old batteries are recycled for the lead, zinc, and plastic, and can net between $5 and $10.
Under the Body
Exhaust systems

– recycled for steel by weight, $5 to $10, online could add $50 to $180; the manifold could add $60 to $80 on top of that.

Catalytic converters

– contain metals, including platinum and palladium, and recycle for $20 to $100.

Tires and rims

– 80% of tires are recycled for the rubber (natural or synthetic) and steel and can bring in $20 to $75 each. If sold on rims, they may increase to $70 to $125 per

wheel

.

Differential

– the metal might recycle for $40, sold in good condition between $100 and $200.

Leaf and coil springs

– leaf springs recycle for $10 to $20 or post them for $50 to $200, and sell the shackles for $30 to $50 a pair. Coil springs are lighter, so recycle for less, and sell for $20 to $100 each based on year, model, and make.

Tie rods

– recycle for a couple of bucks, or could add $30 to $200, and the ends could go separately.

The frame

– a rolling frame or chassis (with wheels) could fetch $250 online, or $100 for recycled metal.
The Body
Glass

– Windshields, side, and rear windows can bring between $25 and $200 depending on model, year, and condition.

Side mirrors

– value varies from $10 to $150 each. Power or heated mirrors bring a higher return if equipped with the harness. Recycled glass, plastic, and metal could net $2.

Power window motor regulators

– range between $40 and $200 online and recycle for less than $5.

Power antenna and motor

– bring $2 to $5 when recycled for the metal and plastic, or sell between $70 and $150. The chrome assembly nut can add another $10 to $20 on top.

Wiper arms and motors

– a pair of arms could bring in $20 to $120, and the motor between $30 and $70, although a 63 Chevy's might bring $300. A pair of nuts for the linkage bolts run between $20 and $30.

Bumpers

– chrome, steel, or plastic bumpers recycle for different amounts. Selling a rear bumper from a Celica could bring $200, an old Trans Am $170, a BMW $480, and a 2015 Ferrari could sweeten the pot by $9k. Front bumpers often have higher values.

Fenders or quarter panels

– the metal recycles, fiberglass is usually trash. Selling them could bring $50 for a lower panel to $400 for a right or left fender.

Doors

– recycle for up to $15 each, or can list from $100 to $500 or more.

Signal lights

– most are recyclable for a couple of bucks, selling might add $20 to $100 per lamp. Used bulbs can also bring in $2 to $5 each.

Hood or trunk

– recycle for their weight in metal, between 25₵ and 75₵ per pound. In a parts magazine or site, they could fetch $30 to $150 or more.

Molding and trim

– the chromed plastic letters, words, or trim don't have much recycle value; the cash is in the sale. A Buick's hood molding could fetch $200, a 3D hood badge $10 to $15, and the ornamental hood emblem $30 to $100.

Tailgate

– recycle for their metal weight, or add $100 for a basic to $1500 plus for those with electronics and built-in steps.
Passenger Compartment and Trunk
Built-in GPS

– the electronic and display system recycles for up to $10, but can sell for between $100 and $800, with a Mercedes multimedia system pushing $1200.

Audio components

– recycle for up to $20 and can sell for between $50 and $150, with premium systems bringing up to $700.

Electronics and gadgets

– antenna switch sell between $40 and $75, genuine chrome radio knobs $15 to $40, and a 12v cigarette lighter $50 to $70.

Steering wheel

– recycle for a buck or two, or sell for $75 to $300 with some pushing $600

Rear-view mirrors

– have limited value recycling, but $10 to $100 if sold.

Airbags

– drivers, passengers, under the dash, door, and other locations can be sold if they haven't been deployed. The value depends on the vehicle but expect between $75 and $200.

Seats

– can be recycled for $20 to $40, or sold for $200 to $400 depending on functions and fabric or leather.

Dash

– doesn't bring much from recycling. However, selling online or elsewhere can add $150 to $300 to the till.

Consoles

– vinyl, plastic, and metal bring $4 to $12. To the right buyer, it could be worth $100 to $1200 or more.

Car jack

– bumper jack will go from $60 to $70.

License plate

– a pair of old plates could scoop $15 to $30 on the market boards, or recycle for maybe 10₵.
Everything Else
Scrap metal

– recycling by the pound: lead 8₵ or 15₵,

steel

10₵ to 16₵, aluminum 40₵ to 55₵, brass 22₵ to 90₵, aluminum 20₵ to 28₵, and copper in motors about 8₵.

Scrap plastic

– the value depends on the type of plastic; it ranges from 30₵ to $5.64 a pound.

Complete car

— $71/ton.
Best Way to Recycle Your Car or Parts
Car recycling for cash is a great way to get rid of an old car, reuse the resources used in it, and to minimize the impact on the environment. Selling off the best parts may work for you if you have the tools, skills, and space to store the parts. Waiting for a buyer could take days, or even years, so don't expect it to disappear overnight.
If you want to recycle a car for money and prefer a quick, easy return versus labor-intensive and long term, contact our team and discuss the possibilities. Remember, that while a Porsche 928 radiator could fetch more than $500, a Lincoln $100, and a Cutlass $70, you still have to get it out without damage, clean it up, find a buyer, and ship it out.
Conclusion
Recycling cars for money can be a rewarding experience; it can also be a nightmare. Hopefully, you now have a better idea of what is involved in recycling your old car or truck, and how to dispose of the parts. If you've decided that selling the parts isn't for you, give us a call!