Hyundai Accent
Sell damaged, broken or junk
Hyundai Accent
If you have a Hyundai Accent that you are no longer happy with, the chances are you could earn cash just for trading it in. Now, you're probably thinking through your options: should you sell it yourself, trade it into a dealership, or just scrap it for junk. In the end, no one would disagree that coming out with cash for your junk car would be a win.
When trading in your junk car there are really only two things to consider:
How much time and effort am I willing to spend on this car?

How much will I be rewarded for my time and effort?
If you have an idea already of the value of Hyundai Accent, you may want to simply trade the car in for as close to that value as you can get. The payment to sell my Hyundai Accent for junk is dependent on a few factors of your Hyundai Accent, such as:
The total mileage

Whether your Hyundai Accent has a clean title

The interior and exterior condition of the vehicle

Possibly the market value for scrap metal if the Hyundai Accent is good for junk
If you think that you won't be able to sell Hyundai Accent to junk yards near you because of the interior or exterior condition, be rest assured that we buy all conditions of vehicles for junk.

In the time it takes to research how much your junk car is selling for online, you could get an offer from Junkcarsus to sell your junk Hyundai Accent. You are only a few short clicks away from getting an offer on your for your junk Hyundai Accent. Don't delay!
Recently Purchased Hyundai Accent
2016 Hyundai Accent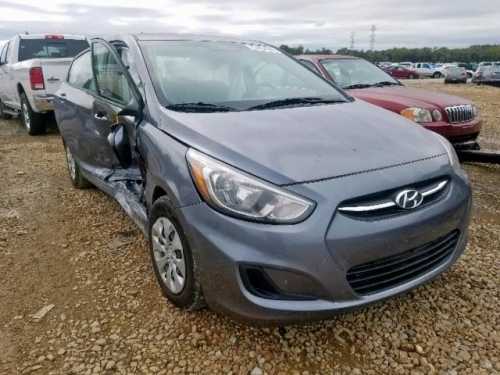 Service date:
December 30, 2020
Testimonials

November 18, 2020
Jordan White
Just about as straight forward as you can get. You tell them about your car, they make you an offer. Then they just come out and get the car. Oh, and it does not matter if you do not have the title for the car.

November 29, 2020
Jake Scott
Full points for punctuality! Through the entire process, Junkcarsus.com was easily accessible and prompt in their response time. Thanks team for your great service!

November 13, 2020
Jocelyn Rodriguez
A friend recommended Junkcarsus.com over dinner and little did I know my broken down Corolla would be taken away the very next day. Their prices aren't heavy at all. I would recommend them henceforth.

December 8, 2020
Jason Wright
My son's old van needed to be discarded and I finally got down to doing it. I called many car removers but found Junkcarsus' package and interaction the best. Their prompt service didn't disappoint at all! Thank you and I will definitely recommend you guys.

November 11, 2020
Lily Jones
Satisfied with Junkcarsus from the first call to the pick-up and formalities. No fuss service. Our garage finally has some breathing space now after sending off the old Yaris. Thank you!

December 20, 2020
Dylan Perez
Great prices, same-day service, and friendly staff from Junkcarsus.com get a 5-star rating from me : )

December 19, 2020
Alexandra Price
When my RV finally stopped running, I really did not know what to do with it. It seemed stupid to pay somebody to come to pick it up and salvage it for me so I did some research. Found this removal service and filled out an online form. Within minutes they had called me back with an offer for my car and picked it up that very day. Great service!

November 7, 2020
Grace Flores
I was worried that when I went to a dealer, they were going to give me a super lowball price for my old car. Just out of curiosity, found Junkcarsus website and send them an email. They called me back and I was amazed at the high price they offered plus they came out and picked it up that very day and gave me a cash!

January 1, 2021
Wyatt Washington
Cannot believe how easy this was. Figured that as bad a shape as my car was in these guys were going to laugh and hang up on me. They seriously take care of everything, especially for a car that I just wanted nothing else to do with.